How is Riverside Different?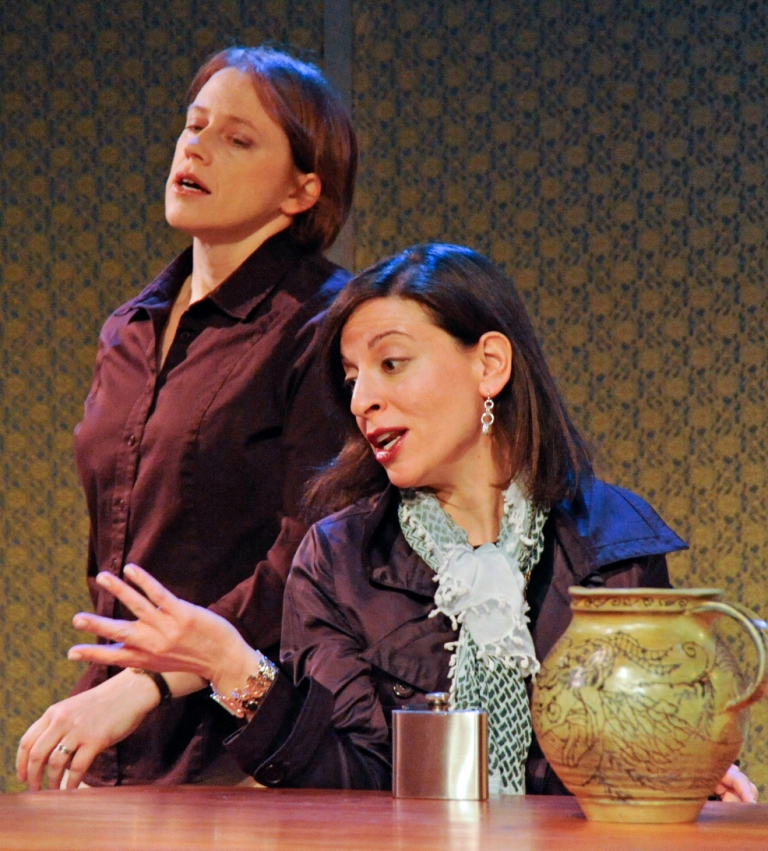 (l to r) Jennifer Fawcett, Lisa Margolin; Marion Bridge
We are Iowa City's resident professional theatre company and entering our 35th season (2015-16). In an arts climate where the projected lifespan of a new professional theatre is less than five years, we're proud of this achievement.
Riverside Theatre produces a broad range of work, from the classics, to contemporary pieces, to state and regional premieres of new work—over 20 premieres to date. September through April we perform at our 118-seat Gilbert Street Theatre at 213 N Gilbert Street in the Northside district of downtown Iowa City, Iowa. Our Gilbert Street season is comprised of a diversity of genres and styles to fit the theatre's intimate space and production style. In alternating years we co-produce a play with the theatre department at Cornell College. This allows students to gain valuable experience performing with professional actors and allows the theatre to select plays with a larger cast. Each summer we produce a summer season that centers around a classic work.
We employ professional actors, directors and designers in our productions—over 1,400 artists over the years. Our artists live and work in the Iowa City area while under contract. Our mission, in part, is to provide an artistic home for regional theatre professionals, and many talented actors and production team members return each season to the stage and backstage of Riverside Theatre.
Riverside Theatre is affiliated with Actors' Equity Association and holds memberships with Theatre Communications Group (TCG), and the Shakespeare Association of America and the Institute of Outdoor Drama. We are one of 3 theatres in Iowa affiliated with the Actors' Equity Association (AEA).
Riverside Theatre is non-profit, 501 (c)(3) organization. Our ticket sales cover less than 50% of our expenses. For the remainder, we rely on the support of our patrons.
Riverside Theatre is also proud to be a member of the National New Play Network. The National New Play Network is an alliance of leading nonprofit theaters that champion the development, production, and continued life of new plays. NNPN strives to pioneer, implement and disseminate ideas and programs that revolutionize the way theaters collaborate to support new plays and playwrights. Learn more about the NNPN at www.nnpn.org.
Our education and training programs for youth are among the best in the state, and have helped launch the careers of fine stage actors populating regional theatres and training programs across the country. "Alumni" can be found on or behind stages on Broadway, the Utah Shakespearean Festival, Chicago Shakespeare, Oregon Shakespeare, Colorado Shakespeare Festival and Milwaukee Rep.
We believe in audience involvement and discussion. Watch our calendar to find out when we're hosting Thursday Theatre Talks (an open discussion about the plays with host Miriam Gilbert and special guests), Sunday Talkbacks (post show questions and answers with the actors and director), and theatre training classes and workshops.
We're looking forward to seeing you this season!