2017-2018



BAKERSFIELD MIST
September 8–October 1, 2017
Written by Stephen Sachs
Directed by Sean Christopher Lewis

Straight from a hit run in London's West End comes a comedy about a low class woman with high art ambitions.

Inspired by true events, Bakersfield Mist is the story of Maude Gutman, an unemployed, chain-smoking ex-bartender living in a run-down California trailer park, who believes the painting she bought in a thrift store for $3 is really an undiscovered Jackson Pollock masterpiece worth millions. When stuffy New York art expert Lionel Percy arrives to evaluate the work, the result is a fiery and often hilarious debate over class, truth, value and the meaning of art.

Artistic Director Sean Lewis says: "Two great actors, a battle of wits and authenticity... I'd say sit back and let this one knock you over."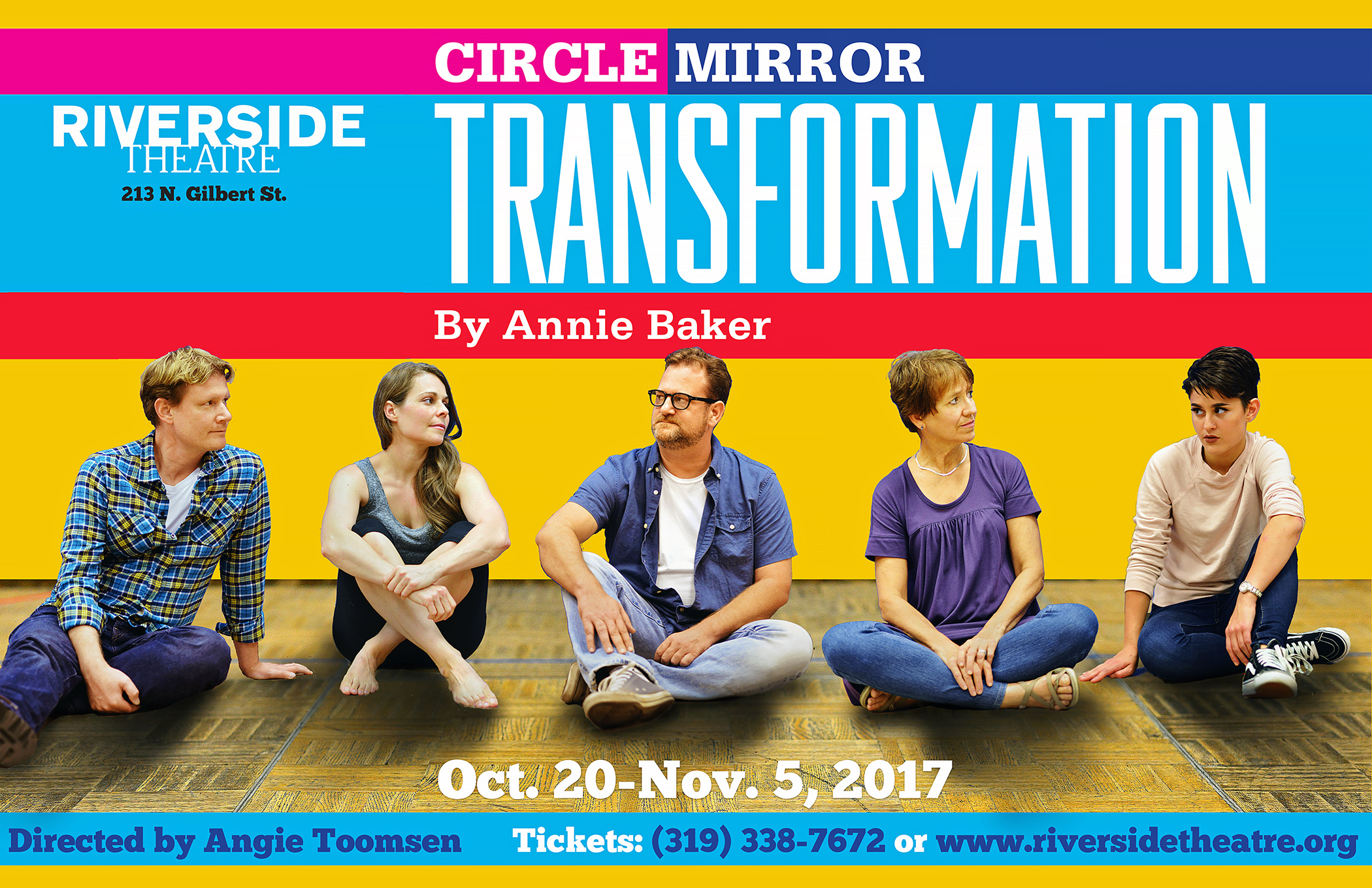 Photo by Rob Merritt

CIRCLE MIRROR TRANSFORMATION
October 20–November 5, 2017
Written by Annie Baker
Directed by Angie Toomsen

Winner of the Obie Award for Best New American Play–a beautiful comedy about how we connect.

In an artsy, small town, an unlikely collection of strangers sign up for Marty's "Adult Creative Drama" class: a recently divorced carpenter, a high school junior, a former actress, and Marty's husband. Unfolding like a charmingly funny indie film, the group plays Marty's imaginative (and sometimes awkward) theatre games. But as their relationships develop over the course of the summer, the seemingly silly games generate some real-life drama. This delightful comedy from new playwright Annie Baker landed on Top Ten lists of The New York Times and The New Yorker.

Artistic Director Sean Lewis says: "Annie Baker is maybe the most important playwright working in America right now. Her plays marry a Chekovian love of character with an American sensibility of longing to create pure magic."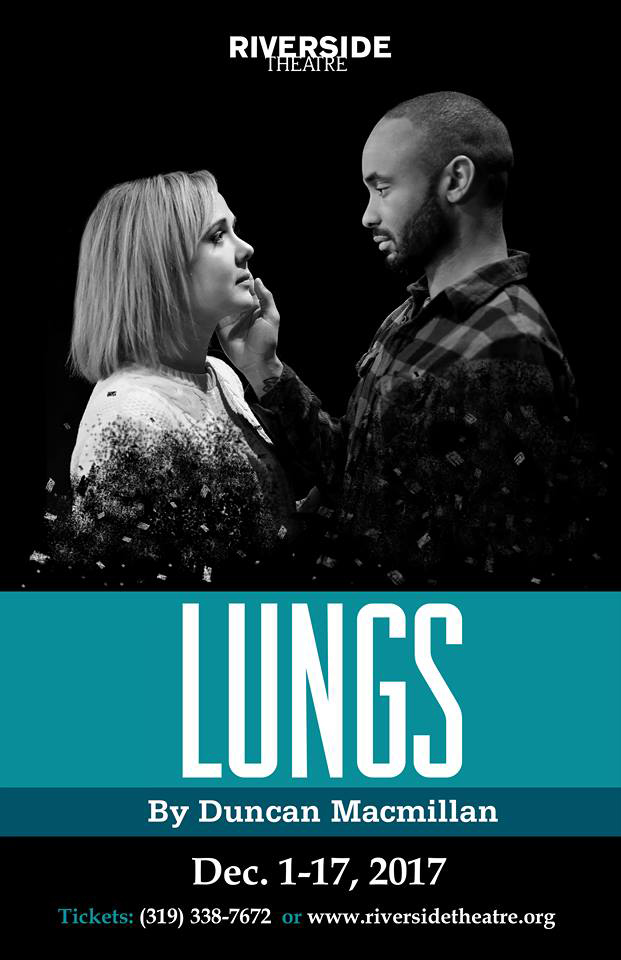 LUNGS
December 1–17, 2017
Written by Duncan Macmillan
Directed by Sean Christopher Lewis

A gorgeous play from the United Kingdom about the world we want to bring our children into.

When did you fall in love? In this stunning, funny and honest love story a man asks a woman if they should have a child and suddenly their entire past and future unfold before us. Told through humor, dance, lights and sound it is a love story that will stun and feel achingly familiar. For fans of last seasons Every Brilliant Thing and A View from the Bridge.

Artistic Director Sean Lewis says: "Duncan Macmillan is everything I want from a playwright: bold, theatrical and writing directly about the world we are living in. This is can't miss for anyone who wondered about their children and the state of the world."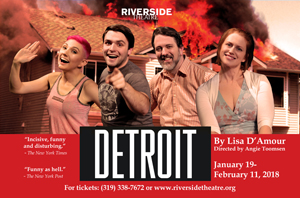 DETROIT
January 19–February 11, 2018
Written by Lisa D'Amour
Directed by Angie Toomsen
A Pulitzer Prize Finalist and one of The New York Times top ten plays of 2012
Fire up the grill... and expect fireworks! In a suburb of a mid-sized American city, Ben and Mary see sudden signs of life at the deserted house next door and invite their new neighbors Sharon and Kenny over for a cookout. But as this foursome bonds over backyard barbecues, the neighborly connection they find threatens to unravel the lives they've built and change them forever. Ecstatic and dangerously funny, Detroit rips up the floorboards to reveal the racing heart under the suburban dream.


Artistic Director Sean Lewis says: "Detroit could stand in for Coralville or North Liberty in this visceral piece. Who are our neighbors? If you like your comedy to be smart, impolite and unapologetic you have found your show."






APPLES IN WINTER
March 2–18, 2018
Written by Jennifer Fawcett

Directed by Beth Wood

Winner of the Smith Prize from the National New Play Network and a NNPN Rolling World Premiere.

From the mind of Jennifer Fawcett (local talent, nationally known, who brought Riverside Theatre the hit plays Birth Witches and Goat Show) comes the story of Miriam. Miriam is a mom. Miriam is a pie maker and tonight Miriam is making a pie for her son. It will also be the last time she will do this for him. A play about mothers & sons, about how we care for each other, and about how to make a really good apple pie.
Artistic Director Sean Lewis says: "Heartbreaking and award winning for good reason. Riverside can do intimate as good as anyone and this play continues that tradition."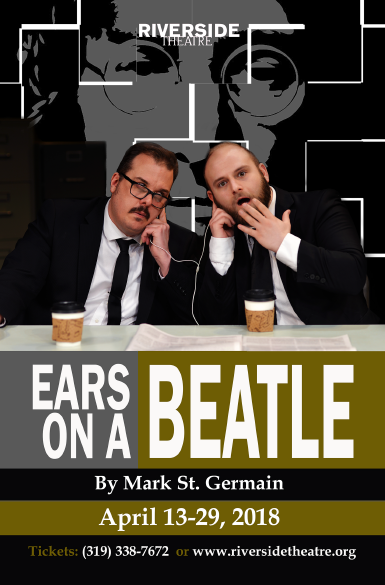 April 13–29, 2018
Written by Mark St. Germain
Directed by Sean Christopher Lewis


From the writer of hit Riverside plays Dancing Lessons and Relativity comes the story of Veteran FBI agent Howard Ballantine and new recruit Daniel McClure. It's 1972 and these men are assigned to job of critical importance by J. Edgar Hoover: get politically outspoken John Lennon out of the country before Richard Nixon runs for reelection. Filled with humor and heartbreak, Ears on a Beatle explores a time when the country was sharply divided by an unpopular war, lies flowed from the White House and individual liberties were threatened in the name of national security! Based on files declassified by the Freedom of Information Act, it's an incredibly humorous and deeply involving play that is as contemporary as today's headlines.
Artistic Director Sean Lewis says: "A last minute treat for our audience… funny… smart… and based on true events, the play is a rollicking look at the world then and now."